Författare:
Deere Carolyn
Titel:
The Implementation Game � The TRIPS Agreement and the Global Politics of Intellectual Property Reform in Developing Countries
Utgivningsår:
2008
Omfång:
409 sid.
Förlag:
Oxford University Press
ISBN:
9780199550616
Produkttyp:
Inbunden
Ämnesord:
Immaterialrätt , Internationell rätt

---
Pris: 626 SEK exkl. moms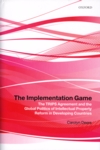 The fight between North and South over intellectual property (IP) reached new heights in the 1990s. In one corner, large multinational companies and developed countries sought to protect their investments. Opposing them, developing countries argued for the time and scope to pursue development strategies unshackled by rules forged to bolster the competitiveness of richer countries. The result was the WTO's deeply contested Agreement on Trade-Related Aspects of Intellectual Property Rights (TRIPS). Widely resented by developing countries, TRIPS nonetheless permits them some hard-won flexibility. Puzzling, however, is why some developing countries have used that flexibility and others have not. Even more curious is that many of the poorest countries have made least use of the room for manouevre, despite securing some extra concessions.

For developing countries, TRIPS did not end the pro-IP offensive. At the urging of industry lobbyists, powerful countries backtracked on the flexibilities in TRIPS and pursued even stronger global IP rules. To prevent precedents for weaker IP standards in poorer countries, they issued threats to market access, aid, investment, and political alliances. Further, they used new trade deals and, more subtly, capacity building (assisted by the World Intellectual Property Organization, among others) to leverage faster compliance and higher standards than TRIPS requires. Meanwhile, 'pro-development' advocates from civil society, other UN agencies, and developing countries worked to counter 'compliance-plus' pressures and defend the use of TRIPS flexibilities, sometimes with success. Within developing countries, most governments had little experience of IP laws and deferred TRIPS implementation to IP offices cut-off from trade politics and national policymaking, making them more vulnerable to the TRIPS-plus agenda. In many of the poorest African countries, regional IP arrangements magnified this effect.

For scholars of international political economy and law, this book is the first detailed exploration of the links between global IP politics and the implementation of IP reforms. It exposes how power politics occur not just within global trade talks but afterwards when countries implement agreements. The Implementation Game will be of interest to all those engaged in debates on the global governance of
trade and IP.