Författare:
Cook Trevor
Titel:
Pharmaceuticals Biotechnology and the Law
Upplaga:
2 uppl.
Utgivningsår:
2009
Omfång:
925 sid.
Förlag:
LexisNexis
ISBN:
9780406914415
Produkttyp:
Inbunden
Ämnesord:
Immaterialrätt , EU-rätt

---
Pris: 2433 SEK exkl. moms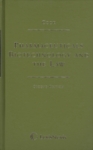 Pharmaceuticals Biotechnology and the Law is the definitive guide to the law in Europe relating to pharmaceuticals, biotechnology and their related areas such as medical devices.

Written by one of the leading patent and regulatory lawyers (Trevor Cook, Bird & Bird), this is the only text which comprehensively covers the wide variety of legal and regulatory issues which surround these industry sectors.

The book examines the background to, and the impact of, the law affecting this area. The text is primarily written from the perspective of European Community law, although in those relatively few areas where this is not harmonised it is written from the perspective of English law.

The book has been comprehensively updated if not re-written to take account of the enormous amount of development in the field since publication of the first edition in 1991.

Virtually every single regulatory framework addressed is completely new or radically updated since then and for example, only two of the materials in the appendix date back to the first edition (e.g., pricing transparency and contained use).

Entire areas of law have developed since then, such as regulatory data, which is accorded three chapters of coverage within the book. The field has also seen the introduction of the EPC 2000, the biotechnology directive and the maturing of biotechnology patenting, which was in its infancy at the time of the first edition. From these developments has come a raft of case law which is cross-referred to throughout.