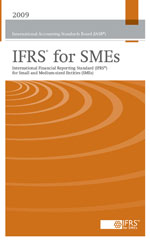 International Financial Reporting Standard IFRS for Small and Medium-sized Entities (SMEs) - July 2009.

The three booklet set comprises the Standard, Basis for Conclusions and Illustrative Financial Statements Presentation and Disclosure Checklist as approved by the IASB.

The IFRS for SMEs is the first ever internationally recognised set of accounting standards designed specifically for SMEs. Built on IFRS foundations but a separate, standalone product that sits side-by-side with the full set of IFRS standards.