Pris: 1161 SEK exkl. moms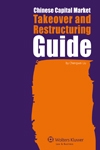 Although several useful entry guides to China for business investors have appeared in recent years, this is the first book to focus on a business strategy that is becoming increasingly important – and attractive – to businesses in China: the takeover and restructuring of a listed company. The book has an additional value, moreover, in that it fully takes into account not only the relevant regulations, most of which were promulgated from 2005 to 2010, but also the actual structures and procedures of announced deals, right up to June 2010. In comprehensive detail the author describes China-specific takeover and restructuring cases involving state-owned shareholders as well as foreign investors, or situations where a share exchange occurs, as well as such standard bids as tender offers, negotiated transfers, indirect takeovers, and subscriptions for new shares. The presentation and analysis covers such elements as the following:


• new issues (public offering or private placement) – asset purchases, disposals or swaps, mergers or separation deals;

• the full meaning and significance of the 'substantial asset restructuring', or SAR;

• the specific competences and procedures of, and distinctions among, the Shanghai Stock Exchange, the Shenzhen Stock Exchange, and 'ChiNext';

• distinction of A shares, B shares, and H shares;

• when stocks may be subscribed for and traded in foreign currencies;

• qualifying as a 'strategic investor', 'qualified foreign institutional investor' (QFII), or 'onshore foreign invested enterprise';

• details of approval and registration procedures; and

• under what circumstances each of the numerous regulatory agencies will intervene.


The author's step-by-step procedures give the reader a clear path to follow through what can seem like a forbiddingly difficult process – a path rendered more secure by the case histories presented. For companies with operations in China, or considering such operations, this book is a goldmine of crucially valuable information and guidance. There is nothing else available that comes close to its authority or expertise in this area.