Pris: 421 SEK exkl. moms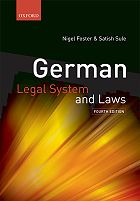 Covers institutional, public, and private law to provide a wide-ranging introductory resource for all students of German law and individuals requiring a knowledge of the German legal system
Detailed further reading lists offer a guide to the available literature and eases the reader into the subject and terminology of German law
Introduces the origins and structure of German law helping the reader to better understand the substantive elements
New to this edition

Expanded coverage of private law introduces the reader to the most current developments in German law
More comparative examples to UK law adds context to the explanation and invites deeper reflection and further discussion
Increased detail on legal history sheds light on how and why the German legal system has developed into its present form
German Legal System and Laws provides a comprehensive introduction to the German legal system and the core areas of substantive law. Constitutional law is the foundation of German law and this area has been given fuller consideration in this fourth edition. The constitutional organs of state, basic rights and administrative law are all thoroughly explained. The text has been fully amended and updated with regard to a wealth of legislation and case law which has radically altered the course of German law with considerable attention being given to the development of private law. Also included are expanded and updated extracts from the Grundgesetz and fully revised glossaries of German legal terms.


Readership: Undergraduates studying German Law optional courses as part of their LLB, or students taking part in Anglo-German Law degrees. Also useful to legal practitioners and professionals in need of an introduction to German law.