Pris: 663 SEK exkl. moms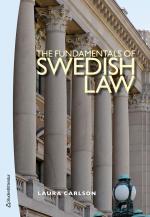 The Fundamentals of Swedish Law offers a foreign reader an overview and understanding of the most important aspects of the law and legal system in Sweden, from the legal institutions to more specific topics such as contract law, tort law and family law. These presentations are not exhaustive but rather meant to give the reader a sufficient enough understanding to be somewhat orientated in the Swedish legal system.

The book is written for non-Swedish practitioners faced with a specific legal issue involving Swedish law. It is also addressed to foreign law students in need of an overview of the Swedish legal system in order to help them in their further studies at Swedish universities.