Pris: 7275 SEK exkl. moms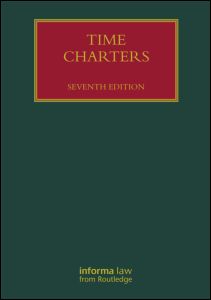 Acclaimed as the standard reference work on the law relating to time charters, this new edition provides a comprehensive treatment of the subject, accessible and useful both to shipping lawyers and to shipowners, charterers, P&I Clubs and other insurers. It provides full coverage of both English and U.S. law, now updated with all the important decisions since the previous edition.

The English decisions covered in the new edition include:

•The Kos (the Supreme Court on the effect of withdrawing a ship with cargo on board);

•The Athena (nature of off-hire; meaning of 'loss of time'/'time thereby lost');

•The Kyla (damage to ship and frustration);

•The Silver Constellation, The Savina Caylyn and The Rowan (oil company approval of chartered ships);

•The Captain Stefanos, The Saldanha, The Triton Lark and The Paiwan Wisdom (effects of piracy);

•The Kildare and The Wren (damages for early termination);

•The T S Singapore (off-hire where ship going 'towards but not to' the port ordered), and

•The Lehmann Timber, The Bulk Chile and The Western Moscow (owners' liens)
The new edition also features many significant new U.S. decisions, including:

•Stolt-Nielsen v. Animal Feeds Intl. (Supreme Court rules class-action arbitration not permitted unless parties agree in arbitration agreement);

•ATHOS I (Circuit Court finds that safe berth provision in charterparty is a warranty and not merely a due diligence obligation);

•The M/V SAMHO DREAM (arbitrators direct petitioner to post $14.2M security on respondent's counterclaim) and

•Maroc Fruit Board v. M/V VINSON (CP arbitration clause incorporated in bill of lading not "signed" or "contained in an exchange of letters or telegrams" under NY Convention).