Författare:
Fill Chris
Titel:
Simply Marketing Communications � Engagement, Strategies and Practice
Utgivningsår:
2006
Omfång:
410 sid.
Förlag:
Pearson Education
ISBN:
9780273704058
Ämnesord:
Marknadsföring

---
Pris: 919 SEK exkl. moms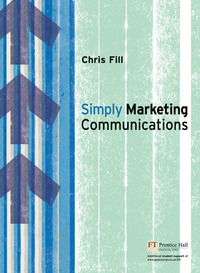 Simply Marketing Communications brings fresh insight and clarity to the core concepts of Marketing Communications. Based upon Chris Fills comprehensive Marketing Communications: engagement, strategies and practice, Fourth Edition, this book sets out the essential themes, theories and topics which students can expect to encounter as they explore Marketing Communications. Designed for students studying both shorter, introductory modules and professional level programmes, this book is a must-have learning resource.

Tailored specifically to meet the requirements of the Chartered Institute of Marketing (CIM) syllabus, the book blends intellectual rigour with an awareness of the needs of students and lecturers. Whether studying for an MBA, a Professional Diploma, or other vocational qualifications in Marketing, students will find the authors back-to-basics approach indispensable.

Structured for success!

4-part structure to help students and lecturers.

•Part 1 Introduction to Marketing Communications
•Part 2 Managing Marketing Communications
•Part 3 Elements of the Marketing Communication Mix
•Part 4 Industry, Relationships and Operations
Special Features include:

•Real-World mini-cases enabling readers to apply theory to practice.
•ViewPoints providing colourful examples of marketing communications in practice.
•Four colour design with pictures throughout to bring topics to life.
•Chapter summaries with review questions to help readers consolidate their learning.