Författare:
Laurell Christofer , Parment Anders
Titel:
Marketing Beyond the Textbook � Emerging Perspectives in Marketing Theory and Practice
Utgivningsår:
2015
Omfång:
286 sid.
Förlag:
Studentlitteratur
ISBN:
9789144105253
Ämnesord:
Marknadsföring

---
Pris: 364 SEK exkl. moms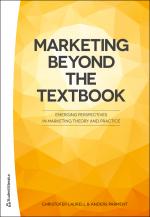 Contemporary markets are subject to fierce competition as the result of digitization, social media, and increasingly powerful and demanding consumers that force organizations to develop an array of novel strategies and approaches to stay competitive. Organizations' attempts to deal with the emerging complexity often go beyond the scope of introductory marketing textbooks.

Building upon the important foundation of introductory marketing textbooks, Marketing Beyond the Textbook expands the traditional domain of marketing by providing a critical but constructive approach to the discipline. Emerging perspectives in marketing theory and practice are extensively discussed in relation to the contemporary organization and structure of markets. Hence, this book provides students and reflective practitioners with essential concepts and tools that support the comprehension of present challenges and decisionmaking associated with these.

In twelve essays, Marketing Beyond the Textbook deals with particular challenges facing the discipline, taking as its starting point marketing areas well-known to scholars, students and practitioners. By doing so, these essays together seek to expand the depth as well as the scope of the reader's marketing knowledge.