Pris: 381 SEK exkl. moms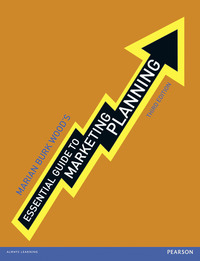 ssential Guide to Marketing Planning takes you step-by-step through the process of developing a creative, effective marketing plan for any product. Marian Burk Wood's friendly, no-nonsense approach offers practical guidance on how to research, prepare and present a great marketing plan. Packed with real-life examples, up-to-date marketing ideas and a detailed sample plan, this book is the perfect tool for the marketing planners of tomorrow.

Features

-Every chapter opens with a timely example of marketing in action at a well-known organisation, giving the reader a feel for how planning is used in the working environment.
-Thorough coverage of all the recent developments in marketing, from crowdsourcing, mobile marketing and social media to pop-up shops, showrooming and sustainable marketing.
-Case studies from some of the worlds most successful companies (including Nike and Michelin) as well as those rising to rule the markets of tomorrow (such as Google and Uniqlo). Answering the case questions will reinforce understanding of the concepts and strengthen planning skills.
-Apply your knowledge exercises challenge the reader to translate principles into practice by analysing a specific organisations marketing activities.
-Build your own marketing plan exercises direct the reader through the main steps in preparing a strong, relevant marketing plan and 20 detailed checklists guide students through the marketing planning process.