Författare:
Stone David
Titel:
European Union Design Law � A Practitioners Guide
Upplaga:
2 uppl.
Utgivningsår:
2016
Omfång:
650 sid.
Förlag:
Oxford University Press
ISBN:
9780198719298
Produkttyp:
Inbunden
Ämnesord:
Immaterialrätt , EU-rätt , Marknadsföring

---
Pris: 2058 SEK exkl. moms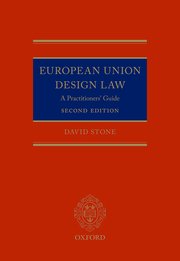 -Written in an economical and entertaining style, with clear organisation of information for quick reference.
-Detailed and critical analysis of settled law, areas of limited jurisprudence, early decisions which arguably contain errors, and areas where the law must be deduced from the legislative text alone.
-Adopts a practical approach throughout, with guidance on key problems such as how to interpret Community designs, assessing 'overall impression', and identifying the 'informed user'.

New to this Edition:

-All court of Justice and General Court decisions since the publication of the last edition, including Karen Millen, Gautzsch Grosshandel, Beifa, Puma, Tubes Radiatori, El Hogar, Gandia Blasco, Sachi, Biscuits Poult, Group Nivelles, Senz, Cezar, Aic, and Argo.
-New helpful summaries of the state of the law on key issues, such as the informed user, design freedom and overall impression.
-The Apple v Samsung case study has been updated beyond the provisional measures hearings to include all the judgements in the tablet design dispute, including the historic publication order decision in the Court of Appeal of England and Wales.
-A new chapter on interpreting a design provides guidance and clarity on dotted lines and other drafting conventions.
-Images throughout, included for the first time, illustrate debates over individual character.