Pris: 2287 SEK exkl. moms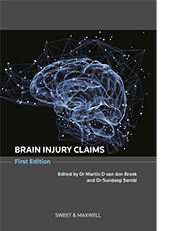 Personal injury litigation involving brain injury claims is multifaceted and complex meaning legal practitioners involved with these types of claims require advice, guidance and expert opinion on the many issues involved.

Brain Injury Claims will focus on the legal and medical aspects involved with acquired brain injuries in adults (i.e. brain injuries that exist as a result of an accident/negligent treatment/stroke etc as opposed to brain injuries/damage acquired before or at birth) and will offer information to those involved in personal injury claims. Brain Injury Claims aims to be an unique reference book for legal and medical professionals written by medical and legal experts, covering all aspects of brain injury litigation in one place by providing information on a range of issues such as an up-to-date review of the various aetiological, assessment and rehabilitation issues relevant to those practising brain injury litigation as well as commissioning expert opinions and rehabilitation.
The focus of Brain Injury Claims will be on the primary clinical population of brain injury claimants, which essentially includes patients with traumatic brain injuries due to motor vehicle accidents, industrial accidents, medical negligence and a variety of traumatic neurological events. The book will provide information and assistance on specific legal issues that will arise for the practitioners involved in brain injury cases, including medico-legal practice; the legal status of expert testimony; common pitfalls in expert reports; legal influences on expert opinion; and expert opinion and bias. It will also provide instruction on rehabilitation and care issues as well as case management factors including assessing case management and support need; and cost effectiveness.
Brain Injury Claims will also cover a range of medical issues in chapters that will be relevant to legal and medical professionals including: acquired brain injuries (primary and secondary mechanisms); neurological assessment of acquired brain injuries; neuropsychiatric assessment of acquired brain injuries and; neuropsychological assessment with each area including information on principles of assessment, interpretation of results, examination of the long-term outcomes after acquired brain injury and evaluation of the Mental Capacity Act litigation and financial capacity. There will also be further chapters on important areas such as: malingering and exaggeration; neuro-rehabilitation; vocational rehabilitation and assessing care needs.
Furthermore the book will also contain an important case studies chapter in which the doctors and barristers will review six varied and important brain injury cases. This chapter will provide real examples accompanied by practical advice as well as offering commentary and critique on all stages of each case.