Titel:
Charlesworth & Percy on Negligence
Upplaga:
14 uppl.
Utgivningsår:
2018
Omfång:
1556 sid.
Förlag:
Sweet & Maxwell
ISBN:
9780414067141
Produkttyp:
Inbunden
Typ av verk:
Kommentar
Ämnesord:
Skadeståndsrätt , Utländsk rätt

---
Pris: 4587 SEK exkl. moms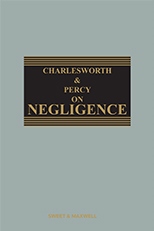 The foremost guide to this complex area of the law, Charlesworth and Percy on Negligence provides an exhaustive reference guide written by a mixed team of practitioners and academics on the torts of negligence and nuisance. Building on the excellence of previous editions, the 14th edition considers all the latest caselaw plus an enhanced discussion on vicarious liability and non-delegable duties.

Key features:

- Sets out comprehensively the general principles, covering duty of care and liability issues under the tort of negligence including the Christian Brothers test to establish vicarious liability
- Shows how the principles developed through the application of the common law and explains how the law of negligence has been applied in the UK and Commonwealth jurisdictions
- Explains what remedies may be available, including damages, and investigates the remoteness of damages as a remedy
- Explains the burden of proof in negligence cases
- Demonstrates the defences and discharges from liability
- Demonstrates the standard of care principle in relation to persons professing some special skill, highways and transport, employee-employer relationship
- Provides an essential reference for every negligence case whether it is to do with personal injury including resulting in death, property, product liability and injury caused by animals and death

New material in the 14th Edition:

- The section on the defence of illegality which can be pleaded in tort and contract law (or unjust enrichment) has been revised to accommodate important case law such as the Supreme Court decision in Patel v Mirza

- An individual chapter on Vicarious liability has been included which takes into account discussions on recent case law such as Cox v Ministry of Justice. The Cox case was heard at the same time as Mohamud v WM Morrison Supermarkets plc and the 14th edition discusses the interplay of cases in this complex area of the law.