Författare:
Berendschot Huib , Janssens Karel
Titel:
Landmark IP Decisions of the European Court of Justice (2014-2018)
Upplaga:
2 uppl.
Utgivningsår:
2019
Omfång:
290 sid.
Förlag:
Larcier
ISBN:
9782807910171
Typ av verk:
Rättsfallssamling
Ämnesord:
Immaterialrätt

---
Pris: 1637 SEK exkl. moms

Ladda hem pdf-fil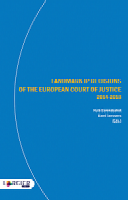 För förteckning över behandlade avgöranden, se pdf!

Presentation av boken:
In this age of fast-evolving technological and digital developmentsmany essential questions relating to Intellectual Property law are referred to the European Court of Justice for interpretation.

This book contains a review of no fewer than forty "landmark" decisions issued by the European Court in this field between 2014 and 2018.

Harmonisation of IP law and the creation of the largest single market in the world have brought both opportunities and threats. Customs surveillance
on counterfeiting is one of the fields in which the harmonisation of IP law is pre-eminent.
In 2008, the CAPIP member firms understood the opportunities that this created. They launched a unique coalition of law firms, with offices in various European jurisdictions, to fight counterfeiting side by side with customs authorities.

This cooperation and the shared interest in the further harmonisation of IP laws has led to this book – the second of its series after the 2008- 2013 edition – providing inside views on some of the most important IP decisions of the European Court of Justice in recent years.

As each decision originates from a dispute before a Member State court, the European Court's rulings have, as far as possible, been summarised and analysed by authors within CAPIP who are familiar with the relevant national jurisdiction.