Författare:
Goode Roy
Titel:
Convention on International Interests in Mobile Equipment and Protocol thereto on Matters Specific to Aircraft Equipment � Official Commentary
Upplaga:
4 uppl.
Utgivningsår:
2019
Omfång:
832 sid.
Förlag:
Unidroit
ISBN:
9788886449403
Ämnesord:
Internationell rätt , Sjö- och transporträtt

---
Pris: 3462 SEK exkl. moms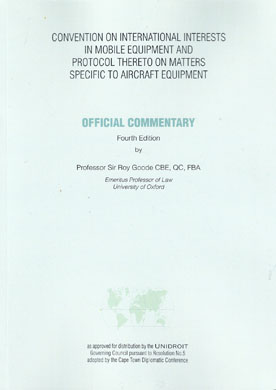 The 2001 Cape Town Convention on International Interests in Mobile Equipment and associated Protocols represent one of the most ambitious and imaginative private commercial law projects ever to have been concluded.

By providing an international legal regimen for security and related interests in aircraft objects, railway rolling stock and space assets, the Convention and Protocol help to reduce legal uncertainty caused by differences in national laws and thereby open up to developing countries access to finance at reasonable cost. It was last revised in 2013.

Much has changed in the intervening five years. The Convention has now been ratified by 79 States and the Protocol by 75 States, together in each case with the European Community (now the European Union). The experience of the aviation industry based on large numbers of transactions registered under the Convention and Protocol, which will reach one million registrations in January 2019, has revealed a host of new issues which needed to be addressed.

In addition the International Registry for aircraft objects has been progressively updated, and substantially enhanced facilities are now in preparation and will be the subject of new regulations designed to take effect in 2019 after approval by the Council of ICAO.

In this fourth edition Sir Roy has extensively revised and expanded the Official Commentary to take account of these and other important developments and to expand the analysis of a range of issues. With 74 Illistrative examples and 18 Appendices the 4th edition of The Official Commentary is an essential guide for all those interested or involved in aviation finance and leasing.