Pris: 3295 SEK exkl. moms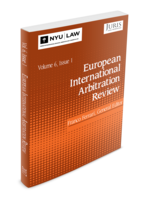 The European International Arbitration Review has a pan-continental outlook with no preference for any one jurisdiction. It has as its particular mission the provision of a forum for the expression of the rich tapestry of thought, practice and jurisprudence from right across Europe.

The extraordinary diversity of arbitration, both law and practice, to be found in Europe provides a never-ending and rich vein of issues for practitioners. The Review will constantly seek out articles and case law to reflect this diversity.