Pris: 2720 SEK exkl. moms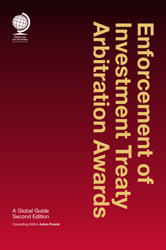 The growth in cross-border investments in an increasingly globalised economy means that there are more international disputes between foreign investors and states than ever before. Investment treaty arbitration has become the preferred dispute resolution mechanism for resolving such disputes, however, securing a final arbitral award is often just the beginning of a complicated process.

Spearheaded by leading arbitration practitioner, Julien Fouret, this second edition brings together more than 70 experts to provide substantive analysis of recurring issues at the award enforcement stage plus practical perspectives on enforcing awards based on investment treaties. It further explores topics ranging from the specifics of the International Centre for Settlement of Investment Disputes mechanism to the enforcement of interim relief and the issues of sovereign immunity and state entities, as well as exploring intra-EU BIT disputes and their enforcement consequences.

This edition features additional country-specific chapters and now covers over 30 jurisdictions, including updated coverage of applicable international and domestic legal frameworks and reviews of the most recent practices. Jurisdictions new for this edition include: Algeria, Belgium, Cameroon, Democratic Republic of the Congo, Czech Republic, Greece, Lebanon and Romania.

Whether you are an arbitration lawyer in private practice or a user of investment treaty arbitration, this edition will provide you with holistic, practical and theoretical insight on the most important step of an arbitral process against a state or state entity.