Författare:
Normand-Hochman Rebecca , red.
Titel:
Managing Talent for Success (Ny upplaga) � Talent Development in Law Firms
Anmärkning:
Publication date: Nov 2020
Utgivningsår:
2020
Omfång:
215 sid.
Förlag:
Globe Law and Business
ISBN:
9781787423749
Produkttyp:
Inbunden
Ämnesord:
Övrigt

---
Preliminärt pris: 1628 SEK exkl. moms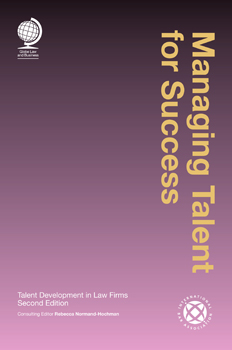 Successful talent management approaches in law firms focus on creating the conditions for lawyers to thrive and succeed rather than on "managing talent" in the traditional sense. This book reveals the various strategies that law firms of all sizes can take to foster and maintain their lawyers' naturally high level of motivation and search for excellence so that they can deploy their full potential, collaborate and be fit to constantly adapt to change.

Following trends seen in other knowledge intensive industries, a number of leading law firms have, in the last few years, started to shift their perspective and initiated interesting changes, particularly in the way they manage performance or consider career progressions.

The second edition of this book, coordinated by Rebecca Normand-Hochman on behalf of the International Bar Association, explores the various elements of what law firms can do to "manage talent" in the most effective ways as well as to overcome the challenges that firms often encounter in their efforts. Topics covered include setting the foundations of a successful talent management strategy, new approaches to managing performance, leading lawyers through change, effective teamwork and collaboration, cultural intelligence and how to develop innovative mindsets for future challenges.

Chapters provide practical guidance from experts internationally to help law firm leaders and partners create the conditions for their teams and themselves to develop to the highest levels of success. This book will also be of interest to learning and development specialists and to emerging leaders seeking to understand what will be required of them to inspire others to thrive.