Författare:
Vaagt Christoph H , red.
Titel:
Law Firm Strategies for the 21st Century � Strategies for Success
Upplaga:
2 uppl.
Utgivningsår:
2020
Omfång:
271 sid.
Förlag:
Globe Law and Business
ISBN:
9781787423022
Produkttyp:
Inbunden
Ämnesord:
Övrigt

---
Pris: 1237 SEK exkl. moms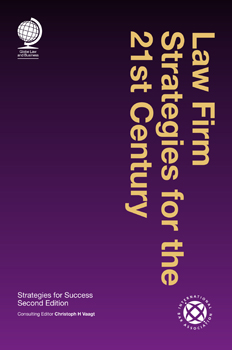 As the legal landscape becomes increasingly competitive, it is clear that law firms do not always do enough to remain at the top of their game. Firms that have embraced the challenges presented by increased competition are undeniably in a better position than those that have not.

This title aims to help partners understand what they can – and what they should not – do to chart the course of their firm most effectively, and covers current topics such as digitalisation and client acquisition and retention. Keeping abreast of market developments is an essential part of law firm management and this edition focuses on helping partners, and their teams, to develop the right strategy.

The second edition of this practical title in Globe Law and Business's series on the business of law, coordinated Christoph H Vaagt on behalf of the International Bar Association, offers up new ways to think about strategy and how to explore it in the context of a partnership. It includes contributions from leading academics, consultants and law firm partners who share their insights and experience in strategy development and management.

Whether you are a managing partner of a small, medium or large law firm, this book offers a variety of viewpoints in a comprehensive single volume. As well as partners and their teams, it will also prove useful for consultants and academics in developing research in this important area.