Pris: 3435 SEK exkl. moms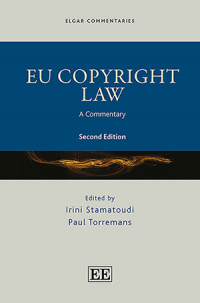 This significantly revised and updated second edition builds upon the authoritative foundations of the first edition. It addresses the rapid development of EU copyright law in relation to the advancement of new technologies, the need for a borderless digital market and the considerable number of EU legal instruments enacted as a result.

Alongside full legislative analysis and article-by-article commentary, the Commentary illustrates the underlying basic principles of free movement and non-discrimination. It provides insights into the influence of copyright on other areas of EU policy, including telecoms and bilateral trade agreements. This unique Commentary describes and analyses each EU directive in turn and discusses anticipated future challenges, utilising a clear structure to enable the reader to navigate the Commentary effectively.

Written by a team of leading experts in the field, this Commentary combines theory and practice to tackle the role of copyright in society and the economy, making this a key resource for academics, researchers, practitioners and policymakers in national, EU and comparative copyright law.