Författare:
Rosati Eleonora
Titel:
Copyright in the Digital Single Market � Article-by-Article Commentary to the Provisions of Directive 2019/790
Utgivningsår:
2021
Omfång:
528 sid.
Förlag:
Oxford University Press
ISBN:
9780198858591
Produkttyp:
Inbunden
Ämnesord:
Immaterialrätt , EU-rätt

---
Pris: 1973 SEK exkl. moms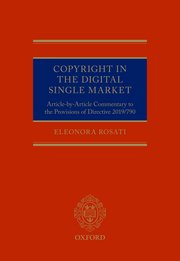 In 2019, the EU legislature adopted Directive 2019/790 on copyright in the Digital Single Market. The Directive is supported by a multi-faceted rationale and represents one of the most significant and ambitious EU harmonization efforts in the copyright field so far. This book provides an article-by-article commentary to all the provisions of the Directive. It is the first complete commentary to Directive 2019/790.

By analyzing the history, objectives, and content of each and every provision, as well as the relationship between some of those provisions and between the Directive and the pre-existing acquis, this book provides a rational, consistent and detailed explanation of the Directive as a whole and of its individual contents. This Commentary will be a travel companion to all those who wish or need to navigate the legislative provisions that were adopted in 2019 to make EU copyright fit for the "digital single market".

- Contains a foreword by First Advocate General Maciej Szpunar

- Authored by a leading EU copyright expert

- Coherent and consistent in the structure of and approach to the analysis and discussion of every provision of the Directive

- Thoroughly researched, with references to policy documents, legislation, and case law

- Anticipates most likely interpretative questions, and provides a reasoned answer to them.

Table of Contents

Table Of Case Law (Court Of Justice Of The European Union)

Table Of Abbreviations

Introduction: Origin, Objectives And Content Of The Directive

Article 1 - Subject Matter And Scope

Article 2 - Definitions

Article 3 - Text And Data Mining For The Purposes Of Scientific Research

Article 4 - Exception Or Limitation For Text And Data Mining

Article 5 - Use Of Works And Other Subject Matter In Digital And Cross-Border Teaching Activities

Article 6 - Preservation Of Cultural Heritage

Article 7 - Common Provisions

Article 8 - Use Of Out-Of-Commerce Works And Other Subject Matter By Cultural Heritage Institutions

Article 9 - Cross-Border Uses

Article 10 - Publicity Measures

Article 11 - Stakeholder Dialogue

Article 12 - Collective Licensing With An Extended Effect

Article 13 - Negotiation Mechanism

Article 14 - Works Of Visual Art In The Public Domain

Article 15 - Protection Of Press Publications Concerning Online Uses

Article 16 - Claims To Fair Compensation

Article 17 - Use Of Protected Content By Online Content-Sharing Service Providers

Article 18 - Principle Of Appropriate And Proportionate Remuneration

Article 19 - Transparency Obligation

Article 20 - Contract Adjustment Mechanism

Article 21 - Alternative Dispute Resolution Procedure

Article 22 - Right Of Revocation

Article 23 - Common Provisions

Article 24 - Amendments To Directives 96/9/Ec And 2001/29/Ec

Article 25 - Relationship With Exceptions And Limitations Provided For In Other Directives

Article 26 - Application In Time

Article 27 - Transitional Provision

Article 28 - Protection Of Personal Data

Article 29 - Transposition

Article 30 - Review

Article 31 - Entry Into Force

Article 32 - Addressees

Appendix 1 - Proposal For A Directive Of The European Parliament And Of The Council On Copyright In The Digital Single Market

Appendix 2 - Directive (Eu) 2019/790 Of The European Parliament And Of The Council Of 17 April 2019 On Copyright And Related Rights In The Digital Single Market And Amending Directives 96/9/Ec And 2001/29/Ec

Index

Author Information

Eleonora Rosati, Professor of Intellectual Property Law and Director of the Institute for Intellectual Property and Market Law (IFIM), Stockholm University

Eleonora Rosati is Professor of Intellectual Property Law and Director of the Institute for Intellectual Property and Market Law (IFIM) at Stockholm University. She is also Of Counsel at Bird & Bird, Editor of the Journal of Intellectual Property Law & Practice (OUP), long-standing contributor to The IPKat, and Co-Founder of Fashion Law London. Eleonora has published extensively in the IP field. She has also prepared technical briefings and studies and delivered talks at the request of international organizations and EU institutions and agencies (including WIPO, European Parliament, European Commission, and EUIPO), as well as international professional bodies and organizations (including ALAI, INTA, AIPPI, LIDC, and ECTA).