Preliminärt pris: 344 SEK exkl. moms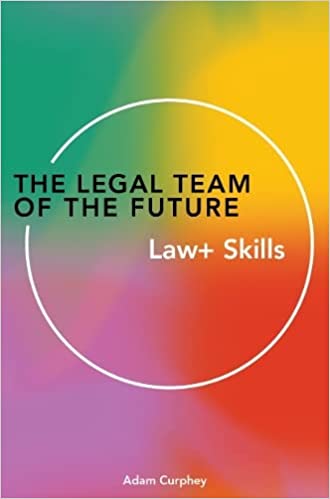 The legal profession needs more than law. Whether you are a student, a law school, a university, a law firm or an in-house legal team, The Legal Team of the Future is the definitive guide to understanding and building the holistic skills required of those working in legal services now and in the future. Highlighting the importance of multidisciplinary teams working collaboratively to solve legal problems, the book introduces a 'Law+' model for the profession, comprising sixteen skills across four quadrants: Law+People, Law+Business, Law+Change and Law+Technology. As well as outlining each of the skills, the book explains how to build those skills as an individual, a law firm, an in-house team, a university or a law school. Designed for both lawyers and business professionals working in law, The Legal Team of the Future dispels the myth that the 'lawyer of the future' is solely responsible for the future of the profession, instead focusing on diverse individuals working within their own specializations. The Law+ model is more than an academic theory, containing real-world examples and case studies and devised by an expert in legal innovation who is still working in the field on a daily basis. This book is the guide you need to navigate the future of the legal profession and to stay ahead of the pack in delivering legal services to clients.

Review

"This thoughtful work from Adam Curphey offers a new lifelong learning model, Law+, to help shape the multidisciplinary legal team of the future. Curphey's skill as an educator shines through the book; he writes with clarity, wit and wisdom, and he offers plenty of practical examples to support his thesis. This book will be invaluable to any organisation looking to develop legal teams that, collectively, possess the skills that clients really need."
— Isabel Parker, executive director at The Digital Legal Exchange and author of Successful Digital Transformation in Law Firms: A Question of Culture



"The author has dissected so many of the challenges facing the legal profession and given a straightforward and refreshing perspective on how we can modernise the profession. His case for multidisciplinary teams servicing client needs is a compelling one and is expertly brought to life through an effective combination of personal experience and case studies. This is a brilliant resource, whatever your level of experience."
— Dan Kayne, founder of O Shaped Lawyer



"The legal profession has long been in need of new approaches to help drive it into the future. Curphey's text provides just that, by highlighting the problems facing the industry and proposing a new model, Law+, for addressing these. Law+ is founded in the conviction that legal services are best provided by multi-disciplinary teams. Curphey develops the model as it applies to people, processes, technology, and change, delineating clear steps for creating a new way of servicing clients. Both insightful and practical, this is a must-read book for anyone interested in what the law firm of the future might look like."

— Nicola Shaver, CEO and co-founder of Legaltech Hub



"An essential and thought-provoking read at a critical time for the sector. Wide ranging and well written, Curphey offers the rare combination of both a model for the future of law (or Law+) and actionable steps to realise it. A truly important book for those thinking about the future of legal practice and how to implement real change."
— Dr Anna Donovan, UCL Faculty of Laws



A much-needed text that will be of real benefit to legal practitioners and educators."
— Chris Howard, senior tutor at The University of Law and member of
the IBA's Future of Legal Services Commission



"As the delivery of legal services moves beyond written documentation and advice, having the right team with the right skills to meet client demand for more integrated digital services will be increasingly important. Adam Curphey's book explores the different skills required to deliver legal services in this new environment and to build a diverse team to successfully meet client challenges. An important read for a new era."
— Lucy Dillon, Lucy Dillon Consulting

About the Author
During his career, Adam Curphey has worked at multiple top 50 law firms as both a practising lawyer and in his current role as an innovation lead, where he partners with lawyers, business services professionals, and clients to devise new methods to solve legal problems and deliver legal services. He also amassed almost a decade of experience as a law lecturer, designing and delivering courses on legal innovation and education in collaboration with law firms. He is a member of the O Shaped Lawyer Steering Board, and he possesses a master's in law from University College, Oxford and a master's in education and technology from the UCL Institute of Education.