Författare:
Wood Philip
Titel:
Governing Law Risks in International Business Transactions (Ny Titel)
Anmärkning:
Utkommer preliminärt den 28 november 2022.
Utgivningsår:
2022
Omfång:
352 sid.
Förlag:
Oxford University Press
ISBN:
9780192888648
Produkttyp:
Inbunden
Ämnesord:
Förmögenhetsrätt , Internationell rätt , Utländsk rätt

---
Preliminärt pris: 1687 SEK exkl. moms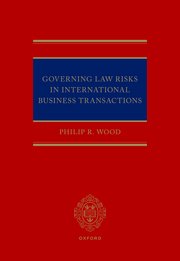 This book describes the key advantages and risks involved in the choice of law governing international business and financial transactions, plus the accompanying choice of courts. Beginning with an analysis of the role of law in social infrastructure, the work outlines the economic value and power of governing law. It concentrates predominantly on financial, corporate, commercial, and insolvency law across a vast comparative basis, discussing how legal risk can be reduced through careful choice of law and courts.

In Governing Law Risks in International Business Transactions, Philip Wood proposes 70 key indicators to rank the England, New York, France, and German legal systems plus many other jurisdictions on 13 risk tests. These include contract predictability, business orientation, freedom of contract, insolvency regimes, corporate law, regulatory law, courts, litigation, and other factors. The book considers all 320 jurisdictions of the world and shows how to understand them by locating them in eight families of law, each with their own features. The book explains not only choice of law principles but sets out the factors to consider the commercial and legal implications of choosing one law over another in business contracts, and is an essential resource for all commercial lawyers.

- The only work describing key features and factors involved in a choice of governing law on a world basis

- Covers vast fields of law and all the jurisdictions of the world

- Provides excellent insights into how to understand world commercial law in one go

- Written by a renowned expert to be accessible to lawyers and non-lawyers alike

Table of Contents

Dedication

Preface

Acknowledgements

1:What this book is about

2:Role of law

3:Scope of contracts

4:Governing law and choice of courts

5:Predictability

6:Insulation of contract from foreign laws

7:Business orientation

8:Freedom of contract

9:Exclusion clauses

10:Insolvency law indicators and risks

11:Insolvency set-off

12:Security interests

13:Commercial trusts

14:Corporate law indicators and risks

15:Regulatory law indicators and risks

16:Courts, litigation, and arbitration

17:Non-legal indicators and risks

18:Comparison of jurisdictions of the world

19:Protecting a governing law

20:History and the future

21:Conclusion

Sources and References

Index

Author Information

Philip Wood CBE KC, Former Partner and Head of the Global Intelligence Unit, Allen & Overy

Philip Wood CBE KC (hon) is a world-renowned academic scholar, and former Head of the Global Intelligence Unit at Allen & Overy, where he was formerly a partner and Head of Banking. He has been Visiting Professor at the University of Oxford, at Queen Mary, University of London, and was a Yorke Distinguished Visiting Fellow at the University of Cambridge. Philip is an established lecturer and author of books in the field of cross-border financial law, known most notably for his nine-volume series The Law and Practice of International Finance (Sweet & Maxwell).