Preliminärt pris: 1997 SEK exkl. moms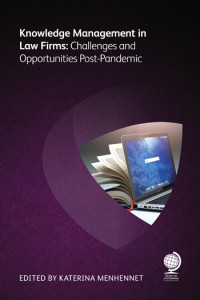 Strategies for gathering and harnessing knowledge have existed in law firms for decades. However, knowledge management suddenly found itself in the spotlight as a result of the COVID-19 pandemic. Enforced remote working reduced opportunities for knowledge sharing between colleagues and this gap was filled with knowledge databases and experienced knowledge lawyers. Now that hybrid and virtual workforces are here to stay, these new working practices have combined with technological developments, enhanced demand, and the transformation of how to access knowledge to drive the advancement of knowledge management into a new era.

Knowledge Management in Law Firms: Challenges and Opportunities Post-Pandemic is the essential guide to the evolution of law firm knowledge management. It covers how to revisit your strategy in light of recent and future changes, the expansion of knowledge management to encompass legal tech and innovation, the rise of the importance of data, strategies for overcoming the challenges hybrid and virtual working pose to knowledge management, managing knowledge teams, and much more. Chapters are written by an international group of KM experts from a range of organisations and leading law firms, including DLA Piper, Linklaters, and Dentons. Pandemic experiences and lessons learnt are shared as well as ways to approach the future.

Knowledge is at the heart of the legal profession, and this book provides guidance on how to prepare for and thrive in the knowledge management practices of the future, overcoming the obstacles and embracing the opportunities that have arisen from or been accelerated by the pandemic. Through demonstrating how effective knowledge management can help firms exceed client expectations, differentiate themselves in the competitive market, and, ultimately, improve their bottom line, this title will be of interest to knowledge management professionals including professional support lawyers, law firm leaders, partners and fee earners, and, outside of law firms, in-house lawyers and consultants.