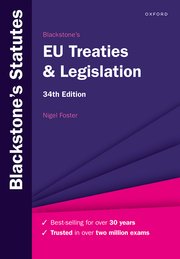 Unsurpassed in authority, reliability and accuracy; Blackstone's Statutes, trusted by students for over 30 years.

Celebrating over 30 years as the market-leading series, Blackstone's Statutes have an unrivalled tradition of trust and quality. With a rock-solid reputation for accuracy, reliability and authority, they remain first-choice for students and lecturers, providing a careful selection of up-to-date legislation for exams and course use.


- Unparalleled coverage of family law, carefully reviewed and selected to include all the up-to-date legislation relevant to the course.

- Unannotated primary and secondary legislation, allowing students to take this book into examinations.

- The detailed table of contents and clear text design aid navigation and make it easy for students to locate the legislation they need.


New to this Edition:

- Changes to the Vertical Agreement block exemption in the completion law section.

- Considerable changes to Part 3 as a result of both the Windsor Framework agreement and Retained EU Law Bill.