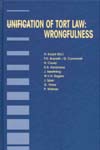 Innehållsförteckning:

Introduction; H. Koziol.
Wrongfulness in the Italian Legal System; F.D. Busnelli, G. Commandé.
Some Remarks on the Borderline between Contract and Tort Liability; F.D. Busnelli, G. Commandé.
Wrongfulness in Belgian Tort Law; H.A. Cousy.
Wrongfulness under Greek Law; K.D. Kerameus.
Wrongfulness under Austrian Law; H. Koziol.
The Borderline Between Tort Liability and Contract; H. Koziol.
The Nature of the Interests Protected by Tort Law; H. Koziol.
Element of Wrongfulness in South African Law of Delict; J. Neethling.
Wrongfulness under English Tort Law; W.V. Horton Rogers.
Wrongfulness in the Dutch Context; J. Spier.
Le `Wrongfulness' en Droit français; G. Viney.
The Concept of `Unlawfulness' - Function and Relevance under Swiss Law; P. Widmer.
Conclusions; H. Koziol.