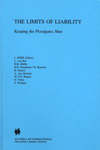 Innehållsförteckning:

- Preliminary Observations; W.V.H. Rogers, et al.
- Limitation and Mitigation in German Tort Law; C. v. Bar.
- Direct and General Limits on Tort Damages in the United States; D.B. Dobbs.
- European Tort Law: Hellenic National Report; K.D. Kerameus, Kl. Roussos.
- Mitigation of Damages under Austrian Law and Ideas for Future Regulations; H. Koziol.
- La modération de la réparation du dommage dans le droit belge de la responsabilité civile extra-contractuelle; A. van Oevelen.
- Keeping the Floodgates Shut: `Mitigation' and `Limitation' of Tort Liability in the English Common Law; W.V.H. Rogers.
- How to Keep Liability Within Reasonable Limits? A Brief Outline of Dutch Law; J. Spier.
- Modération et limitation des responsabilités et des indemnisations: Rapport sur le droit français; G. Viney.
- Détermination et réduction de la réparation en droit suisse; P. Widmer.
- Index.