Pris: 1645 SEK exkl. moms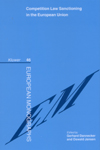 As of May 2004, national competition authorities in EU Members States are empowered to enforce sanctions on infringement of the competition rules laid down in Articles 81 and 82 EC Treaty. As a result, it is crucially important for practitioners to be conversant with the competition law of the EU Member States.

This book offers thorough reports by local practitioners or academics on twelve national competition law systems within the EU and focuses on sanctioning law. It includes detailed information on sanctioning under both criminal law and administrative law at the national as well as the EC level, with expert analysis of the criminal law and administrative law principles to be applied. It also features contributions on the themes such as fining policy, leniency, investigatory powers, mutual assistance in administrative and criminal matters in relation to the cooperation between national competition authorities, and Swiss competition law.