Pris: 332 SEK exkl. moms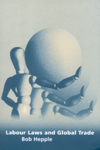 The focus of globalisation studies is on how global processes can be better regulated in order to deliver both economic growth and social justice. Labour laws provide an excellent case study of the creation of a new framework to reconcile free trade and investment with social objectives.

This book, written by a leading authority on international and comparative labour law, provides a thoughtful and comprehensive analysis of the new methods of transnational labour regulation that are emerging in response to globalisation. The author reassesses orthodox views, from the viewpoint of a theory of comparative institutional advantage, and suggests ways in which transnational regulation can be re-invented in the new global economy

This will be of interest to students of law, human rights, industrial relations, globalisation, international trade and development, as well as policy-makers in international and regional organisations, governments, employers' bodies, trade unions and NGOs.