Pris: 855 SEK exkl. moms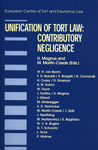 In this volume, the authors provide an overview of contributory negligence and its relevance in the allocation of damages under their respective national tort system. Of immense practical importance, the concept of contributory negligence is further examined in an analysis of actual cases. This volume also contains an economic analysis of this area of tort law as well as a comparative report which summarizes and compares the most important elements identified by the individual country reports.

In summary, this volume shows the common grounds of contributory negligence in the various legal systems under examination. In addition, it provides the academic and the practitioner with the fundamental aspects of contributory negligence in the countries covered.