Författare:
Heuman Lars , Jarvin Sigvard
Titel:
The Swedish Arbitration Act of 1999, Five Years On: � A Critical Review of Strengths and Weaknesses
Utgivningsår:
2006
Omfång:
630 sid.
Förlag:
Juris Publishing
ISBN:
1929446918
Produkttyp:
Inbunden
Typ av verk:
Samlingsverk
Ämnesord:
Processrätt

---
Pris: 1362 SEK exkl. moms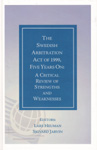 In 2004, Sweden's Arbitration Act of 1999 was five years old. Inspired by UNCITRAL's Model Law while perpetuating features of the 1929 Act, it introduced many new concepts, such as establishing rules to determine the law applicable to the agreement to arbitrate, authorizing the arbitrators to decide the existence of facts and to fill gaps in contracts, making competition law issues arbitrable, affording the respondent the right to have the dispute resolved if the claimant withdraws its claim, authorizing truncated tribunals where an arbitrator obstructs the work of the tribunal. The new Act further gives arbitrators power to decide interim measures of protection and accepts that foreign parties waive in advance the possibility to set aside the arbitral award.

In order to learn about the experience of Swedish and foreign practitioners, arbitrators and judges during the five years since the Act was adopted, the Stockholm Arbitration Report and the Institute of Arbitration Law at the University of Stockholm, organized a symposium on 7 and 8 October 2004.

The symposium, was arranged in co-operation with the Arbitration Institute of the Stockholm Chamber of Commerce (SCC), the China International Economic and Trade Arbitration Commission (CIETAC), the Hong Kong International Arbitration Centre (HKIAC), the ICC International Court of Arbitration, the International Centre for Dispute Resolution (ICDR), the International Commercial Arbitration Court at the CCI of the Russian Federation, JAMS, the London Court of International Arbitration (LCIA), Revue de l'arbitrage, the Swedish Bar Association and UNCITRAL

This book contains the papers presented to the six working sessions and the full discussions that took place.