Pris: 1731 SEK exkl. moms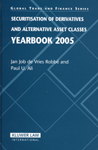 Table of Contents:

Foreword. Preface. Contributors.

1. Synthetic Squares, or the Securitisation of Russian Dolls; J. de Vries Robb .
2. Modelling Credit Risk in Synthetic CDO Squared Transactions; K. Gilkes.
3. Synthetic Securitisation Platforms Established by KfW; S. Krauss.
4. Doing CMBS in Italy: The Current Issues and the Synthetic Route; G. Schiavello.
5. Securitising the Weather: Temperature Swaps and Windstorm Bonds; P. A. U. Ali.
6. Equity Default Swaps and the Securitisation of Risk; M. J. Logie, J.-P. Castagnino.
7. Securitisation in Japan; P. Kilner, P. Avanzato, L. Oddy, G. Hartnett.
8. Trends and Innovations in the US CDO Market; M. Visic.
9. Covered Bonds in Europe; S. Nasarre-Aznar, O. Stocker.
10. Residential Pre-Sales Securitisation: A New Method of Project Finance; L. Mahaffy.
11. Issues in Cross-Border CMBS; S. Smith.
12. Commercial Mortgage Backed Securities in Europe; S. Beekwilder.
13. Securitisation of Private Equity; O. Koenig.
14. Public Sector Securitisation in Europe; P. Cassiano Santos, P. Gomes Freire, A. Figueiredo.
15. Securitisation of Auto Leases in The Netherlands; M. van t Westeinde.
16. Shariah, Sukuk and Securitisation; T. Box, M. Asaria.
17. Whole Business Securitisations in Civil Law Jurisdictions: The French Example; P. Douat, P. Nugue.
18. Accounting for Securitisations: A World of Change; T. J. Coyne.
19. The Asset Securitisation Framework in Base: An Asian Perspective 2; S. Hohl.
20. Regulatory Capital Standards for Securitisation in Basel II; E. Elvers.