Pris: 373 SEK exkl. moms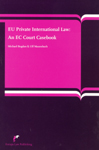 The purpose of this book is to provide an easy access to and overview of the case law of the Court of Justice of the European Communities (ECJ) pertaining to private international law. The book contains edited extracts from all ECJ decisions of immediate private international law relevance made before 1 October, 2006.

Most of the cases deal with the original or amended versions of the Brussels Convention on Jurisdiction and the Enforcement of Judgments in Civil and Commercial Matters from 1968. These judgments retain their authority also with regard to the interpretation of Regulation No 44/2001 of 22 December 2000 on Jurisdiction and the Recognition and Enforcement of Judgments in Civil and Commercial Matters (the so-called Brussels I Regulation).

The existing ECJ case law regarding other EC regulations and directives dealing with private international law, as well as a number of relevant judgments concerning the interpretation of the EC Treaty itself, are also included.