Pris: 510 SEK exkl. moms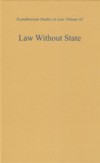 For this 62th volume of Scandinavian Studies in Law scholars from different substantial fields of law have been invited to speculate over whether there can be (or perhaps already is) law without the state, and if so, the long term consequences.

Can law still play a central role in governing human behaviour? How can legitimacy be achieved? What will become of the public interest, and who will protect the private interest, if an indisputable state order is absent?

The topic is not new, the demise of the state as we know it has been discussed among legal experts for quite some time. The reason is obvious – the preconditions for traditional law as a product of a respected national state order are changing dramatically. Internationalisation, digitalisation, demands for deregulation and decentralisation of powers are just a few factors among many, providing food for thoughts and speculations.

The editorial board of Scandinavian Studies in Law is attached to the Stockholm University Law Faculty. The book series is published by a non-profit trust and the first volume was published in 1957. Each volume focuses on a specific legal topic or issue.