Copyright, to be or not to be
� Le droit d'auteur être ou ne pas être, El derecho de autor, ser o no ser
Författare:
Blomqvist Jørgen
Titel:
Copyright, to be or not to be � Le droit d'auteur être ou ne pas être, El derecho de autor, ser o no ser
Anmärkning:
Engelsk, fransk och spansk text.
Utgivningsår:
2019
Omfång:
356 sid.
Förlag:
Ex Tuto
ISBN:
9788742000045
Produkttyp:
Inbunden
Typ av verk:
Samlingsverk
Serie:
Ex tuto
Ämnesord:
Immaterialrätt , Allmänna verk och samlingsverk

---
Pris: 984 SEK exkl. moms

Ladda hem pdf-fil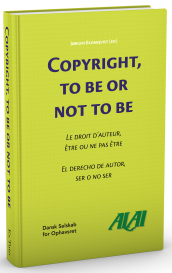 For contents, see included pdf in link.


This book contains the papers presented at the ALAI Congress in Copenhagen on May 18–19, 2017. Today, the protection of copyright and related rights is as controversial as ever before. It reaches into our everyday activities on the internet and is by many seen as an impediment to the free flow of information, culture and entertainment.

The Congress examined in depth not only why this protection came about, but in particular also which role it plays in modern society. Some of the leading experts in the world discussed the issues under the following headings: the traditional justifications for copyright and related rights; economic aspects of copyright and related rights; individual and collective licensing as a means of improving the functioning and acceptance of copyright and related rights; and general tendencies and future developments.

The general reports, which are based on questionnaires from a large number of ALAI's national groups, are published in English, French and Spanish, whereas other papers are published in one of these languages, as it was presented.

Published i co-operation with Dansk Selskab for Ophavsret and International Literary and Artistic Association (ALAI).