Författare:
Leal-Arcas Rafael
Titel:
COMMENTARY ON THE ENERGY CHARTER TREATY
Anmärkning:
The Commentary on the Energy Charter Treaty (ECT) provides a unique, article-by-article, textual analysis of this important international agreement. The ECT outlines a multilateral framework for cross-border cooperation in the energy sector based on the principles of open competitive markets and sustainable development.
Utgivningsår:
2018
Omfång:
584 sid.
Förlag:
Edward Elgar
ISBN:
9781788117487
Produkttyp:
Inbunden
Typ av verk:
Kommentar
Serie:
Elgar Commentaries series
Ämnesord:
Miljörätt , Fastighetsrätt , Internationell rätt

---
Pris: 2908 SEK exkl. moms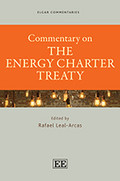 The Energy Charter Treaty (ECT) is an international agreement which aims to provide a 'multilateral framework for energy cooperation' based on the principles of 'open, competitive markets and sustainable development'.2 By binding governments to commitments that guarantee open markets, non-discrimination and access for foreign investment,3 the ECT aims to strengthen the global rule of law on energy issues and thereby reduce the risks associated with energy-related investments and trade.4 The ECT itself rests on five primary areas: investment protection;5 trade;6 transit;7 environmental protection;8 and dispute settlement;9 while there are optional protocols on various topics, including energy efficiency and the environment.10

In 1990, at a European Council meeting in Dublin, Ruud Lubbers, the Dutch Prime Minister, who, at the time, presided over the Council, called for more institutionalized relations with the energy-rich economies in Eurasia following their collapse in order to benefit from their consequent opening-up and orientation towards the global market-based economic order. This led to the adoption of the 1991 European Energy Charter, which is a non-legally binding political declaration embodying key principles of international energy cooperation. The 1991 European Energy Charter paved the way for the negotiation and eventual adoption of the ECT11 and the Energy Charter Process.12 Prior to the advent of the ECT, Western industrialized states attempted to have an energy-sector specific agreement adopted within the context of the General Agreement on Tariffs and Trade (GATT), but this effort ultimately foundered.13 In that sense, the advent of the ECT was a success for multilateralism, given the political difficulties in having such an agreement adopted within the multilateral trade system.

The ECT's fundamental purpose was to promote open energy markets, predicated on, chiefly, investment protection, in the energy-significant, yet economically depressed, Eurasian economies following the geopolitical and geo-economic re-shuffle in Eurasia as a result of the collapse of the Soviet Union. A more critical reading of the ECT and the events that led to its adoption would suggest that, beyond the official rhetoric, its actual aim was to enhance the energy security of developed European economies by, among other things, laying down norms to promote the eventual opening-up of those economies, and their energy sectors, to external exploitation, and to thus promote access for the industries of the developed European economies to the energy resources in those economies.14 In that sense, with such ostensible foundational links to the EU, the ECT regime presents an inherent bias towards EU industrial and energy interests.15 While there is legal equality between ECT parties, the fact that their economies are so disparate means that the benefits of ECT membership – such as investment protection in the energy sectors – are likely to accrue in an asymmetric manner that favours those economies with developed energy exploration (upstream) sectors. The European Communities is a foundational sui juris party to the ECT, as are those EU Member States that were part of the European Communities at the time of the ECT's adoption.16

Currently, there are 54 ECT signatories (including each EU Member State and the EU in its own right), out of which four ratifications are still pending (Australia, Belarus, Iceland, and Norway).17 Russia signed the ECT and was applying it provisionally until 18 October 2009, but has not ratified it, arguably because it was concerned about the potential loss of its monopoly access to its vast domestic pipeline network that ratification – and thereby subjection to the non-discrimination principle – would entail.18 Russia notified the Energy Charter Secretariat that it would withdraw from the ECT's provisional application from that date.19 This has implications for EU energy interests, given the volume of EU-bound energy flows from Russia. Russia's unwillingness to ratify the ECT, combined with the non-participation of other major economies such as the United States and China, arguably significantly undercuts the ECT's effectiveness in a globally accepted energy framework from an EU standpoint and from the standpoint of other Western energy-importing economies.20

ECT parties that have ratified may withdraw after the conclusion of the first five years following ratification.21 Additionally, ECT parties that had ratified before communicating their intention to withdraw from the ECT remain bound by ECT investment protection obligations for a further 20 years following withdrawal.22 For those parties who have signed but not ratified the ECT – as in the case of Russia – it is possible to withdraw with effect within a shorter time-frame – namely 60 calendar days.23

While the ECT expressly asserts state sovereignty over natural resources24 – itself a truism under international law25 – it provides robust protection for investor interests in the territories of ECT parties.26 It does so by entrenching a legal right to compensation in cases where an ECT party carries out an expropriation or otherwise compromises investor interests in some legally significant manner. The ECT does not necessarily obligate its parties to liberalize their energy markets, it does not mandate inward flows of foreign investment, and it does not obligate its parties to provide energy exploitation contracts to all ECT parties on a non-discriminatory basis.27 However, it does provide disciplines that benefit energy-sector investment interests once these have been welcomed by ECT parties into their territory. In sum, once investments take place within ECT party territories, ECT parties must provide indiscriminate treatment to foreign investors (in other words, they must treat all as if they were investors from their 'most favoured nation'), and must not discriminate between foreign and domestic investors (in other words, they must provide 'national treatment' to foreign investors).