Pris: 595 SEK exkl. moms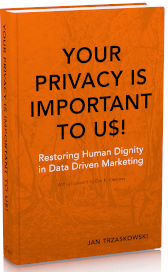 Your Privacy Is Important to Us! explores the application of EU consumer law—including data protection law and other fundamental rights—to data-driven business models that infringe on human agency, social cohesion and democratic debate. It suggests how our current legal framework can be informed by psychological, technological and societal perspectives to curb predatory business models of surveillance capitalism.

The book elucidates the potential for cross-fertilisation between data protection law and marketing law, and it demonstrates how the protection of human dignity, privacy and non-discrimination may corroborate these legal disciplines. It is argued that 'paying with personal data' is a misleading framing when, in fact, we pay with attention and agency—which are both scarcer and more precious than personal data and are also important in social and societal contexts. A three-tiered model of information asymmetry is introduced to illustrate why information does not ensure transparency, which is a prerequisite for user empowerment.

The aim is to inform and amplify ongoing debates by providing a coherent framing of data-driven marketing in the context of law, psychology, technology and society.